Set sail for adventure when your guests find themselves on Treasure Island and the latest captives of Captain Blackblood and his notorious crew. As guests arrive they are greeted by colorful pirates and receive pirate eye-patches, mini-"cutlasses" and the Pirate Pamphlet of Insults.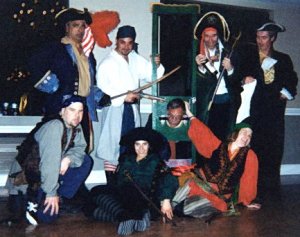 Scenes will occur at various times throughout the night, each a humorous lampoon of a pirate debauch utilizing company lingo, industry terms and inside jokes to spice up the script. The first mate recruits your guests as pirates, giving them a participatory lesson in "Piracy 101". Guests are instructed on pirate lingo, insults, dueling and singing the pirate song. Capt. Blackblood insists that for the rest of the evening, guests may only refer to each other using pirate insults from the pamphlet.

Other scenes include a "make the captain cry" contest and a pirate trial, ridiculously presided over by Capt. Blackblood. The captain of the defeated ship (your company host) is accused of "not being a pirate". The pirates demand an execution - which includes a firing squad made up of attendees, a attempted beheading with a faulty guillotine and death by being tied to a canon. Needless to say, the buffoonish louts fail at every attempt, but sentence the accused to a "a fate worse than death!"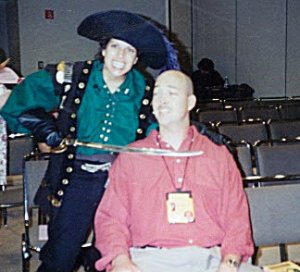 The pirates can also aid in any award process, making each winner "walk the plank", as well as introducing any guests speakers and presenters.

Another added option is to have the pirates host various piratical games during cocktails, which could include the skull toss and dagger darts.
Send your guests to Treasure Island for a fun interactive adventure that will make everyone into a jolly roger!