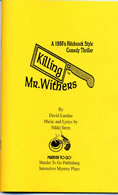 KILLING MR. WITHERS
It is 1957. The audience is part of a bus tour that has broken down in the desert and is now stranded at the "Last Chance Pump & Grill", a desolate place hundreds of miles from civilization and just downwind of a nuclear testing sight. Veronica, the sensuous wife of the grill's owner, has used her wiles to convince a drifter, Jack, to help her kill her cold and quiet husband for the insurance.
Enter Veronica's long lost half-sister Natasha, who was sent to a mental institution after she burned down their parent's mobile home. Natasha, now a professional assassin, arrives with her partner Boris and the body of Mr. Withers - a crooked savings & loan president who was about to turn evidence.
The plot twists and turns with unexpected surprises until murder arrives as the next customer. The audience is interrogated about what happened and given the opportunity to ask the suspects questions themselves. Not only are they challenged to deduct "whodunit", but also how many Hitchcock movie titles were mentioned in the script.
Hitchcockian-Comedy Thriller: 4-Men 3-Women Songs: "Feel the Passion" " It's A Living"
Printed Script: $9.95 ea

LICENSING INFORMATION