INTERACTIVE MURDER MYSTERY SCRIPTS FOR HIRE

tel: (973) 301-0121
Scripts, Contracts & Royalty Payments
---
A Deadly Briefcase
To pay using PAY-PAL click the Add To Cart Button
or call (973) 301-0121
TO PURCHASE COPIES OF THE PRINTED SCRIPT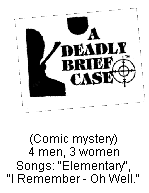 A Deadly Briefcase
A mystery spoof of the James Bond films. Originally performed on board the real QE 2, the setting for this mystery is the club room of the famous ocean liner as it sails for Bermuda in 1962. Bobby is a man with the brain of a ten-year old who likes to pretend he is Sherlock Holmes.
His sister Tammy is taking him along on her vacation when they stumble across a locked briefcase with a pair of handcuffs attached, a woman with amnesia, a high school sweetheart of Tammy's named Bruce Bond who fights with his arch enemy James Lee and two Romanian spies.
Its up to the vacationing Detective Ellery Chan - grandson of the famous Charlie Chan - to sort out this case of international intrigue with the aid of the audience.
Printed Script: $9.95 ea
LICENSING INFORMATION
TO PURCHASE A CONTRACT
I wish to have a contract made out to and sent to me.
I wish to pay the advance royalty for the first 2 performances: $175.00

OR...If you ALREADY have a contract
and wish to pay for additional performances @ $75.00 ea.
*Fill in the number of performances in the Qty. box
after clicking the add to cart button
IMPORTANT: PLEASE PROVIDE THE FOLLOWING PERFORMANCE INFORMATION IN THE COMMENT BOX PROVIDED DURING THE CHECK OUT PROCESS:
The Producing Organization
Opening & Closing Dates
Expected # of performances
Location of Performance
PURCHASE THE MUSIC CD
Music CD - A Deadly Briefcase: $12.00 ea

Standard Shipping & Handling Charges apply
To RUSH THIS ORDER is an additional $25